After a long wait for the Facebook Home to be released on the Nexus 4, there was finally another way to get this App Launcher and so with that and the few weeks that I have used it, I can finally review it.
It starts off with a download to the Facebook Messenger. I've never really installed the app but seeing that Facebook Home required it to get the "Full Experience", then why not… Then I had to install the Facebook Home app itself; a quick and simple procedure. And finally, when returning to the home screen, it asks if you would like to keep Facebook Home as the main screen but don't worry, you're able to remove it if you change your mind.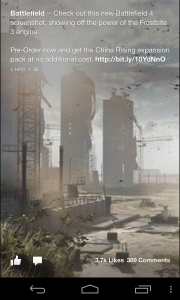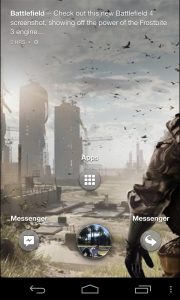 Moving onto the experience. With the lovely interface, it does require a bit of patience as there is a lot of getting used to. With my familiar home screen gone, pressing home goes back to your Facebook news feed which kind of diverts your attention when you actually pressed home for another reason! However, I compromise with myself to avoid pressing the home button. The news feed is nice as I get to scroll through all my friends photos and feeds in a lovely format but sometimes, I'd like to get back to the beginning and the only way to go back is to scroll all the way back so I try to look at 10 feeds so I don't go too far from the beginning.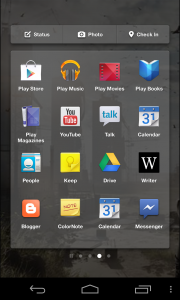 The navigation to the apps is pretty simple. All you do is either move your profile picture located at the bottom centre of the screen and drag it to the apps section. From there, you have panels with the default apps and few most recently installed apps. The one all the way to the left shows all your apps… This is a nice way of navigating but one problem for me is that everything is too hidden. I know it is a Facebook App Launcher but I thought they would make things convenient however, for me, they failed to accomplish this fact.
One thing I enjoyed about this launcher is the way how text messages are displayed. Whenever a text message arrives to my phone, a circle appears randomly from the left or right of the screen and sits there until you press it. Notifications are very important to me and they really did the job well.
My thoughts… I think the installation was very easy so no headache there but the navigation needs a bit of work. Everything was so hidden (to make a phone call or get to a browser quickly. The notifications were great and would be even more fantastic if I can just customise the notifications to be able to receive Whatsapp messages the same way.
Overall, I think I'd give Facebook Home a 6/10.